November was bitter cold and December was the exact opposite. Does that mean winter is over?

The short answer to that is NO.
First, the technical stuff: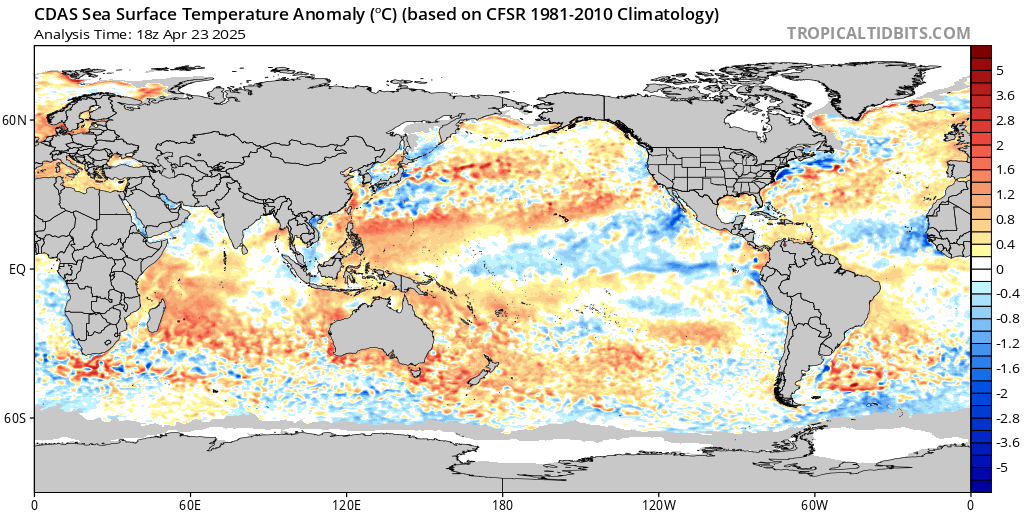 Taking a look at the Sea Surface Temperature anomalies, one issue is the position of the "warm blob" over the Gulf of Alaska. This IS and WILL be a player in what happens for the rest of he winter. The position of the warmer water is not close to the Northwest Pacific coast. While it's been pretty active in the Northwest, because of the position of the "warm blob," ridging can't build across the Western United States. Therefore, there's a trough (colder and stormy) in the west and a southeast ridge develops in the east.
Until this builds closer to the coast, our weather pattern is going to be up and down. There are signs that this is expanding and this should support more ridging in the west and a trough (active and colder) in the east.
The teleconnections show a horrible pattern right now for snow lovers along the East Coast. The PNA (Pacific North American Oscillation) is turning strongly negative, which means a trough in the west – NOT a ridge.
The NAO (North Atlantic Oscillation) is positive, which means no blocking and any cold is not sustained. However, there is a nice Polar Vortex that is helping to provide some cold shots and keeping it colder across the Plains, Great Lakes, and New England. However – once again – it's a progressive pattern. There's no blocking to keep the cold bottled in place.
However, the EPO (Eastern Pacific Oscillation) is forecast to go negative by the second week in January. When the EPO is negative, the ridge out west extends into Siberia and helps to plunge colder air into the Eastern United States.
Layman's Terms
It's going to take time for the pattern to change and it will slowly change and evolve as we move later into January. I still think late January, February and March will be colder and active. It's just going to take time as these changes don't happen overnight.
REVISED VIRGINIA & MID-ATLANTIC WINTER FORECAST
First things first — We were thinking that it would turn colder by the New Year. We will still have cold shots, but I don't see anything sustained until perhaps the end of January. This is going to put a dent on our previous snowfall forecast. We made revisions and dropped everything near average. We still think a few storms will bring most areas to at least near average snowfall in February and March.
January 1 – 15:
Temperatures: 0 to +2° (Near to above average)
Precipitation: Slightly below average
Ice Storm Chance: Zero
Snow Chance: Zero

While we will have cold shots, there will be many "milder" days in between. A drier pattern looks to set up. Some systems will bring rain (maybe thunderstorms)
January 15 – 31:
Temperatures: 0° (Near average)
Precipitation: Near average
Ice Storm Chance: Low to Moderate
Snow Chance: Very Low to Low
Around January 20, we should start seeing the pattern changes evolve. It will still be a gradual process (and not overnight) but more shots of colder air will move into the Northeast and Mid-Atlantic states. An issue that still remains will be keeping the colder air in place. Therefore, if we do see more colder air, but it warms up with another system right behind it, this could pose the threat for an ice event, late in January. I'm not sure we'll see any snow in January, unless you are in the mountains.
February
Temperatures: 0° to -2° (Near to below average)
Precipitation: Near average
Ice Storm Chance: Moderate
Snow Chance: Moderate
I'm still banking on February to be colder. Climatology speaking, this is our coldest month. I think there will still be swings early in the month, but we should see more prolonged cold shots with precipitation. This is where we should make up for our winter. In most cases, it only takes one or two storms to meet your snowfall average.
March
Temperatures: -1° to -2° (below average)
Precipitation: Near average
Ice Storm Chance: Low
Snow Chance: Moderate
Right now, if we were to look at the analogs, it's looking more like a 2014-15 winter, and March will likely be on the cold side. It can still snow in March and in the past, we can get smaller systems that can pile up. After March 15, it's very hard to get snow, due to the sun angle — but I wouldn't rule it out.