2019-20 WINTER HEADLINES
NOTE: Our first guess region by region snowfall forecast for 2019-20 is at the bottom of this post. ***
PAST SNOWFALL OUTLOOK YEARS
Before we start, here's a look at past snowfall outlooks.
I don't hide anything and I'll be the first to tell you if I'm wrong. Out of the past six years that we've been doing winter outlooks, we've only had ONE year where the winter outlook failed, which was 2016-17. This was the "DC snow hole" winter.
As you can see, I have my own point system and I am very strict on myself when I am much lower than forecast. To be fair, there are two grades. The top grade DOES NOT count the forecasts where snowfall was ABOVE the forecast. The bottom grade combines both. Roughly 75 percent of our Virginia Weather Network/Action followers are snow lovers and are happen when they get more snow than predicted. However, I want to be fair across the board, and as you can see, we do pretty well.
I put A LOT of time and effort into these forecasts and I don't just throw numbers out there for "hype". We have built a fan base and following where people trust us try very hard to give everyone the best forecasts and outlooks possible. NO forecast, anywhere, will be perfect. They all have their flaws and good sides.
SNOW COVER ACROSS EURASIA & SEA ICE
We talk about this a lot. There is a big connection in regards to how much snow cover there is across Eurasia and sea ice across the Northern Hemisphere. The more snow that builds up in October and November in Eurasia, and the higher the sea ice in the Northern Hemisphere, the more cold it gets. With strong fronts and storms, and areas of low pressure (one in Siberia, and the other in North America, or known as the "Polar Vortex",) this can bring polar cold from Siberia to the North Pole, straight down into the United States. Therefore, for snow lovers, you want to see a gradual increase in Eurasia Snow cover.
North Atlantic Oscillation
One MAJOR thing that lacked last year was a negative NAO. However, it has shown up over the past few months.
In the diagram above, you an see how the jet stream dips from the Plains and Midwest into the Southeast. High pressure near Greenland is what helps to guide storms along the East Coast.
When the NAO is positive, there's no high pressure over Greenland, which creates a fast zonal jet stream. Storms can easily (and usually) move off the coast and out to sea.
We feel the North Atlantic Oscillation will be in many NEGATIVE phases for the upcoming winter. Many reasons and factors as to WHY is explained below.
ENSO & SEA SURFACE TEMPERATURES
This winter, we will have a "La Nada" or "Neutral" conditions. However, some models show a very weak El Nino developing. This is something that will need to be monitored, as this could open the door to a more active subtropical jet stream, with more storms across the Southern United States. With colder air in place, this could mean some big time winter storms.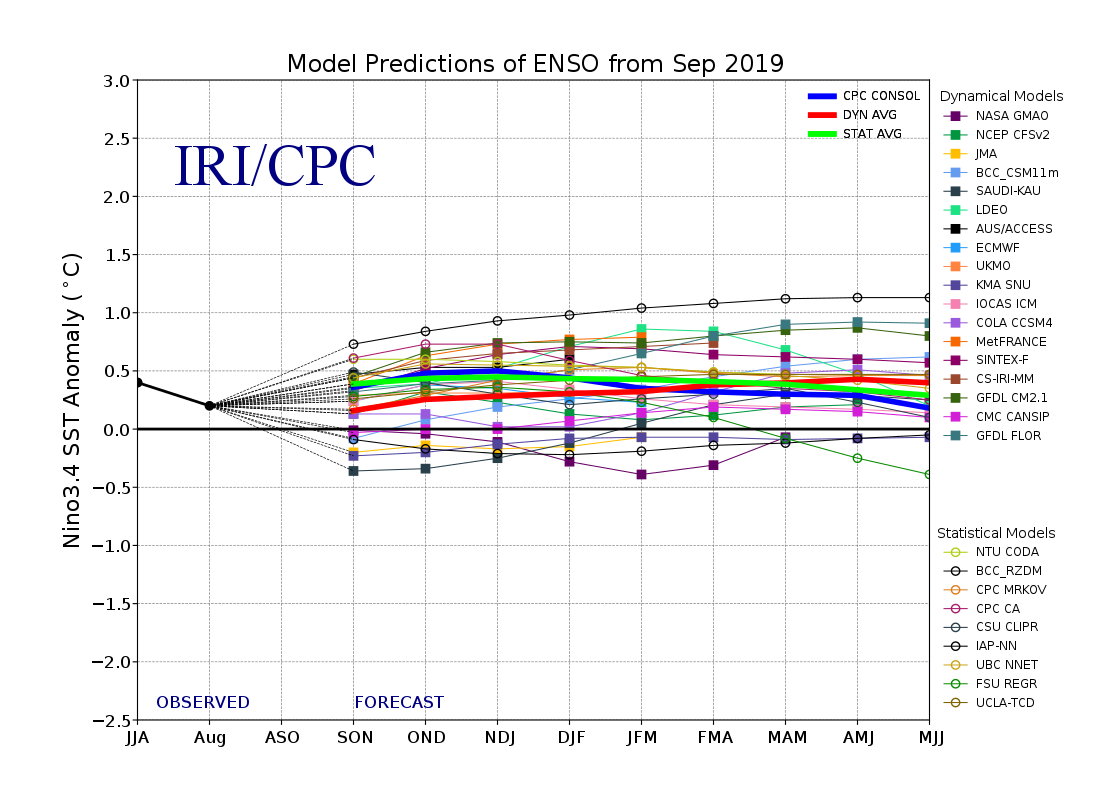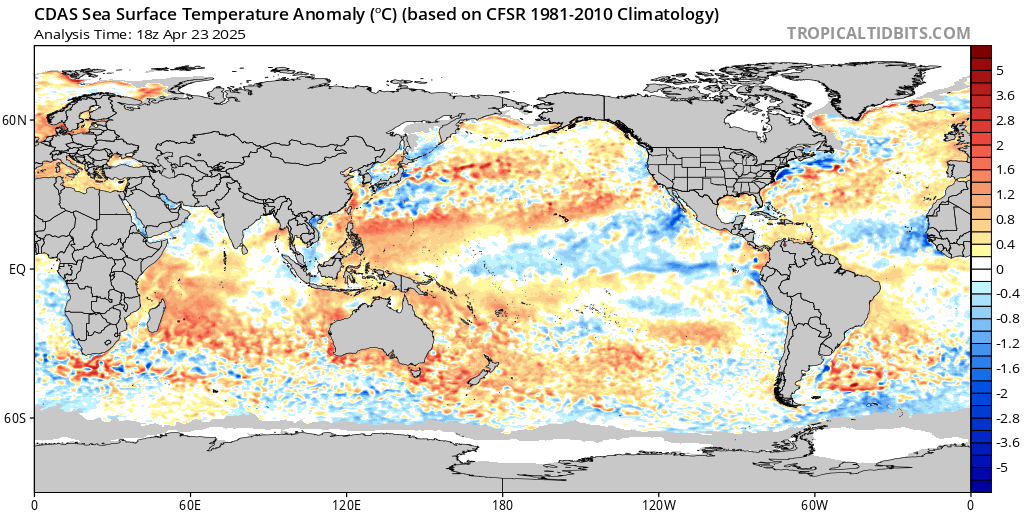 Current Sea Surface Temperatures show a large pool of warmer water across the Central and Eastern Pacific. There appears to be two areas of warmth, one "blob" focused off the Alaskan coast and another just east of Hawaii. If the warmer blob near Alaska were to take over, then we would have higher odds of seeing periodic shots of colder air across the Eastern U.S. Colder waters off the coast of Florida and in the Bahamas is likely from the impacts of Hurricane Dorian. We can also see a "mix" of cooler and warmer waters near the Equatorial Pacific, but are indeed WARMING. There will continue to be up and down spikes through the fall and winter.
Another thing to note are the warmer ocean temperatures along the East Coast. If this continues, any storm that develops off the coast will have more "fuel." Colder waters further south could possibly be contributed by minimum solar sunspot activity.
SOLAR CYCLE SUNSPOT ACTIVITY
Our last "severe" winter was back in 2009-10. If you look at the graph below, you can see that 2009-10 reached the minimum solar cycle. Solar sunspot activity plays a huge rule in patterns across the Northern Hemisphere. In fact, many severe winters occurred during minimum solar cycles and favors stormy and cold weather across the Eastern United States, due to ridging in Greenland. Many severe winters during the mid 1960's, late 1970's, mid 1980's, mid 1990's, and 2009-10, all occurred when the solar cycle reached it's minimum.
As of September 9, we are expected to reach a minimum solar cycle during the upcoming 2019-20 winter season.
QBO (Quasi-biennial Oscillation)
The Quasi Biennial Oscillation refers to phases of more westerly or easterly winds in the stratosphere over the Tropics. Easterly phases are typically associated with a weaker winter time stratospheric polar vortex (and a better likelihood of sudden stratospheric warming events, leading to potentially periods of deep –AO blocking), while westerly phases tend to be associated with a stronger winter time stratospheric polar vortex (and a lower likelihood of the vortex getting disrupted in winter, potentially leading to periods of +AO conditions). There are exceptions to the rule, but the correlation is fairly well understood.
The following map is from Meteorologist David Tolleris, from WxRisk.com. He has always always been intrigued by the QBO and got me interested and learning about it several years ago. It has it's flaws (like many things do, such as models, etc.,) but its a really good tool to use to help determine what will happen in the coming months. It's important to note that just because the QBO falls into negative numbers does not always necessarily mean the winter will be cold or snowy, due to other large scale teleconnections that play important roles. While it's NEVER a good idea to lean on strictly the QBO, I would still say that it has had at least 65 percent accuracy in our outlooks.

In many of the analogs below with QBO values in the -10 to -15 range shown below, you get a trough in the west, blocking (-NAO) and very cold air across the Eastern U.S. A cross-polar flow is found in many of these analogs, meaning a direct connection from the extreme cold from Siberia, funneling right into Canada and the Eastern U.S.
In August, the QBO index dropped to 9.97. We expect this to drop during the next several months into negative values. This is another ingredient that supports a colder winter.
Last winter, while we expected normal to slightly below average temperatures, the QBO went from near neutral to +10 to +20 range, which scream warmer temperatures, and we were a few degrees WARMER than average. Therefore, the QBO proved that the opposite effect gave much of the East Coast milder conditions is one reason why I like to use the QBO index in my outlooks.
EPO (Eastern Pacific Oscillation )
Not only is the NAO (North Atlantic Oscillation) and AO (Arctic Oscillation) important, The EPO plays a HUGE role in weather across the entire United States.
POSITIVE + EPO
When the EPO is POSITIVE, low pressure across is often found off the Alaska coast / Northeast Pacific. This often creates a "zonal flow" from west to east and can literally kill any hopes and dreams for snow lovers… It also forces the jet stream to go WAY NORTH into Canada, which means very warm conditions across the Eastern United States.
NEGATIVE -EPO
A NEGATIVE EPO is the exact opposite. You have high pressure across the Northeastern pacific, which brings much warmer conditions to Alaska, and helps to force colder air into the Central and Eastern United States. This opens the door to cross-polar flow or arctic intrusions of very cold air.
The EPO always changes, just like the NAO and AO — and will NOT remain in one phase all winter. However, analogs and current thinking supports more of a negative EPO this winter.
DROUGHT
One "fly in the ointment" is the drought. Right now, it's a short-term drought. While the pattern is changing and we will gradually see more rain over the weeks to come, this still needs to be monitored.
Droughts CAN play a huge impact in the long term and "help" Southeast ridging to develop across the area. If this occurs, then storm systems will move from the Rockies into the Ohio/Tennessee River Valley and Mid-Atlantic, meaning no coastal storms that develop in the Gulf and move up the coast. This would also change temperatures as well, even with blocking — it would be a battle with a strong Southeast Ridge and cold, arctic air to the north… We would be "sandwiched" right in the middle.
Fall & Winter Analogs
There are many analogs that support our thinking, but the main ones that "stick out" are 1977-78, 1979-80, 1993-94, 2004-05, 2013-14, 2014-15, and 2018-19 (mainly last year for ocean temperatures.)
OCTOBER THROUGH NOVEMBER
For the rest of the FALL, the analogs mentioned above showed temperate anomalies near to 2 degrees BELOW AVERAGE across the Mid-Atlantic, with some really cold air across the Midwest and Plains, especially during November. Precipitation was near to slightly above average, with the best chances for widespread precipitation in November. We feel that the analogs point to a medium to high confidence for what to expect during the next few months. Now that the brutal heat has ended, high pressure is no longer parked across the Eastern United States. This means better opportunities for rainfall. IT WILL TAKE TIME, however, we will slowly see better chances for rain as we head into October and through November.
Winter Analogs
Again, the same years, here's a look at temperatures for the winter months December through March:
Precipitation:
Very cold across the Midwest, Mid-Atlantic, and Northeast, with above normal precipitation.
WARM ANALOGS
Not all of our analogs were cold…. One other analog that sticks out is 2004-05. It was an "average winter" in the Mid-Atlantic and Northeast compared to temperatures, but it was super warm across the Plains and West. However, Near to above average snowfall was observed across many areas. Just because it's a "warmer" winter doesn't necessarily mean it's not going to snow.
FIRST SNOWFALL GUESS – REGION BY REGION
This winter could mimic 2009-10 or be a blend of 2009-10 and 2013-14, based on minimum solar activity and the QBO falling into the negative numbers…
We will issue a final outlook (if any changes) INCLUDING a statewide snowfall map for 2019-20… The following maps are a breakdown region-by-region, on how much snow we think will fall for the entire winter season.
We are holding off on Hampton Roads "for now" — this is the most challenging forecast area. This will greatly depend on many things, such as water temperatures (this could cause more warmer air into the area, meaning rain,) how much cold air is available, and storm tracks.
With the potential for many wintry storms, even if they are a few inches at a time, this can certainly pile up over time. Across the Lower Mid-Atlantic, it usually takes just one or two storms to meet or surpass your snowfall average. With an active storm track from coastal storms and clipper events, this is why we have a good chunk of the area in 125 percent or more of average snowfall.
The heaviest snows will likely be across Northern, Northwestern Virginia and points north. If everything mentioned above is correct, there will be some serious cold in place and any moisture would be in the form of snow.
THANK YOU
THANK YOU for reading! Please consider donating to Virginia Weather Action to help keep us running through the winter! Your money helps us pay for radar and model subscriptions and enhancements to the website, plus adds new features either on the website or something entirely new altogether!