We have certainly seen our share of several "icy" events in-between warmer temperatures over the last several winters.  Could Mother Nature bring more ice storms and mixed precipitation events for the third year in a row for the 2021-22 winter season?
La Niña is here
A weak La Niña has developed and will be one of the players for the 2021-22 winter season. In a "typical" La Niña pattern, blocking high pressure across the Central Pacific Ocean creates a ridge across the Western United States. This pushes the jet stream north to the Alaskan coast and then drops south into the Central Plains and Ohio and Tennesse River Valley Regions.   Across the south, warmer and drier air is usually present with a lack of any subtropical jetstream to provide much in the way of moisture. 
The latest information from CPC/IRI suggests that La Niña will be in play through at least mid-winter, possibly longer.  Some ensembles extend this longer and stronger into the early spring. However, overall, the forecast calls for a weak La Nina. If you look at "just" La Nina, it's not a good thing if you are a snowfall lover in the Mid-Atlantic.  However, there are many other variables that must be accounted for when looking at the overall picture and determining how much cold or snow we will see this upcoming winter.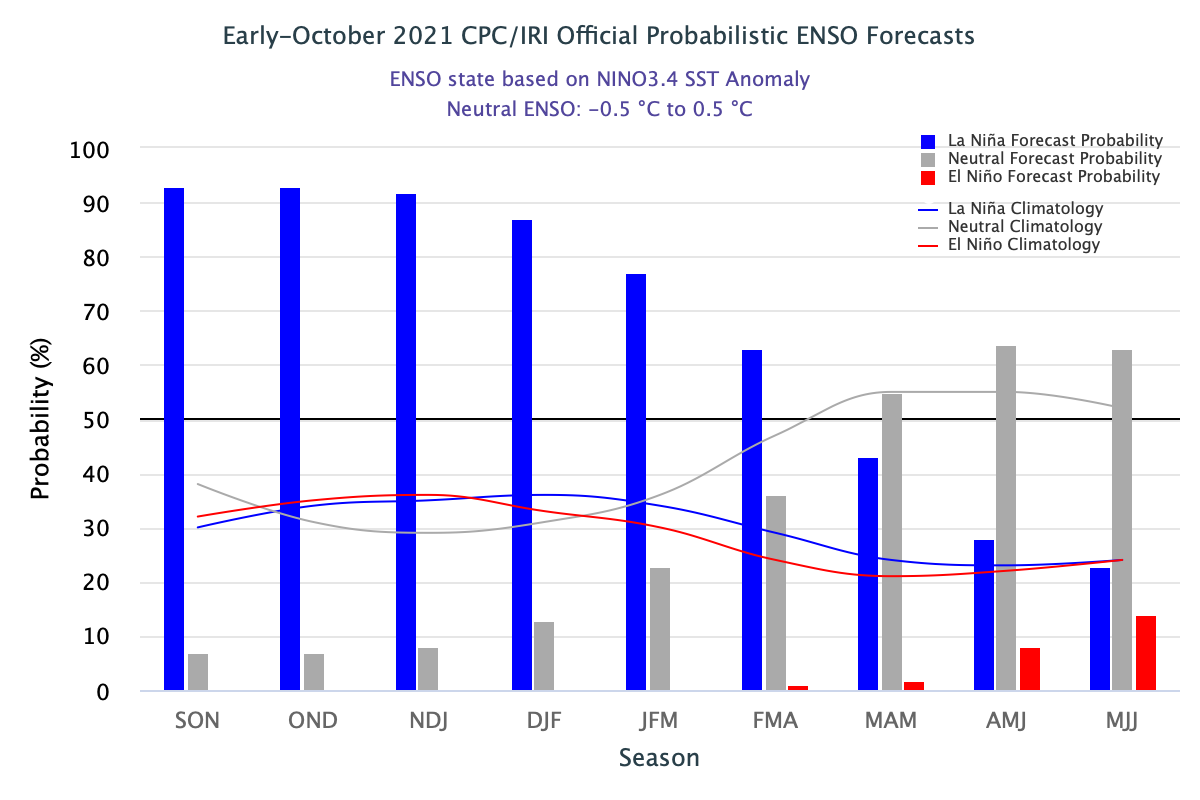 Polar Vortex
SSW or "Sudden Stratospheric Warming" events over the North Pole can allow displacement of frigid arctic air to dive southward.  Earlier guidance from the ECMWF was suggesting a potentially major warming event but has since backed away from a major signal.  However, large disturbances related to the polar vortex cause the temperature to increase and are affected by the winds around the pole. The Polar Vortex is then weakened and pieces of cold can get dislodged south or southeast into the United States or into Europe.   It can be difficult to predict when an "SSW" event will occur, but can usually be seen one month in advance.  Long-range does a "decent" job with these predictions but many times can be too extreme when forecasting these events.  This could promote more in the way of a negative NAO (North Atlantic) and negative AO (Arctic) Oscillation, which keeps colder air locked in across the Eastern United States. 
The ECMWF continues to show a weakened polar vortex this winter, but has backed away from a signal for a major warming in December.

It suggests that the vortex will be in its weakest state in November and January.

This can result in the displacement of frigid Arctic air 🥶 pic.twitter.com/aOuvWXTCow

— Ben Noll (@BenNollWeather) October 14, 2021
Eurasia Snowcover
Snowcover across Europe and Asia can also play a big role in how cold the air is in a cross-polar flow.  We always look at the snow cover in this part of the region as a guide. There appears to be less snow this year versus last year, however, Eurasia got off on a late start due to weather conditions earlier in the month not conducive for major snows.  It appears to be playing "catch up" at the moment.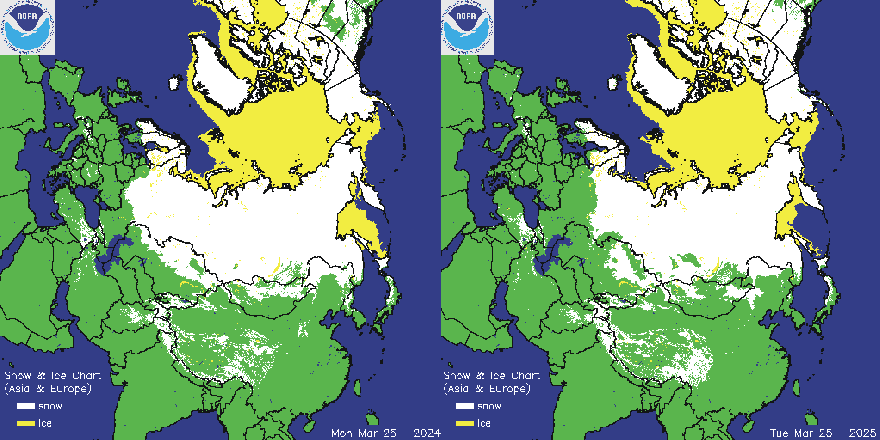 We also use the Arctic Sea Ice Extent as another tool we factor into the winter forecast.  Arctic Sea Ice Extent was 26 percent GREATER than last year. While 2020 was quite warm across much of the globe, farther north, it stayed generally cool and stormy, which helped to keep sea ice intact across a large amount of the Arctic Ocean. This is may actually be an "encouraging sign" as it was not as less compared to September and October 2020 or during the record minimum in 2012.
Arctic Sea Ice
Quasi-Biennial Oscillation (QBO)
The Quasi-Biennial Oscillation (QBO), is a quasi-periodic oscillation of the equatorial zonal wind between easterlies and westerlies in the tropical stratosphere.  The QBO is currently in a STRONGLY NEGATIVE PHASE.  When it's in a negative phase, upper winds are flowing from east to west and have the effect of slowing down and weakening the northern hemispheric and southern hemisphere jet streams.  In return, it causes a "snake-like" wind pattern that can promote big weather systems and help to destabilize the Arctic and Antarctic Poles.  During weak and moderate La Nina's, when the QBO was in a negative phase, this helped to promote major blocking of the North Atlantic Oscillation and dumping extensive cold into the Central and Eastern United States.
Combining the QBO, NAO, and La Niña's
This is a graphic showing ALL of the La Nina's.  When a negative North Atlantic Oscillation, combined with La Nina were both present, much colder temperatures were seen across the Midwest, Northeast, and Mid-Atlantic in December and January.   When the NAO is in a positive phase (no blocking,) La Nina's are a blow torch across the Eastern United States.   Teleconnections and the MJO, also known as the Madden-Jullian Oscillation, are great tools to predict upcoming weather changes coming down the pipeline in the next two to three weeks.  It's important to note that the NAO (and all other teleconnections) can swing back and forth, sometimes for longer periods of time, sometimes shorter. 

Warmer waters in the Atlantic COULD keep storm tracks WEST
The one problem that I see in this forecast is that the "warm blob" is NOT across the North Pacific but in the Central Pacific.  Usually, warmer waters near Alaska promote a tall ridge across the Western United States, and with a negative North Atlantic Oscillation, a cross-polar flow from Siberia can drag down some really cold air at times.  We have warmer waters across the Central Pacific, which tells me that there will likely be some spikes in the jet stream (some dips here and there) but not extreme.   The warmer waters across the Gulf of Mexico are fairly common in a La Niña pattern.  The warmer waters off Greenland is typically a sign of blocking (keeping cold air in place across the Eastern United States)  but a lot of warmth is showing up across the Atlantic waters. This could mean a ridge that sets up at times across the southeast and extends warmth across the Eastern United States, with the core of the cold sitting across the Midwest, Great Lakes, and Northern Plains.  Depending on how the timing of storms and cold air intrusions, this screams more mixed precipitation and ice storm events, compared to true classic snowstorms.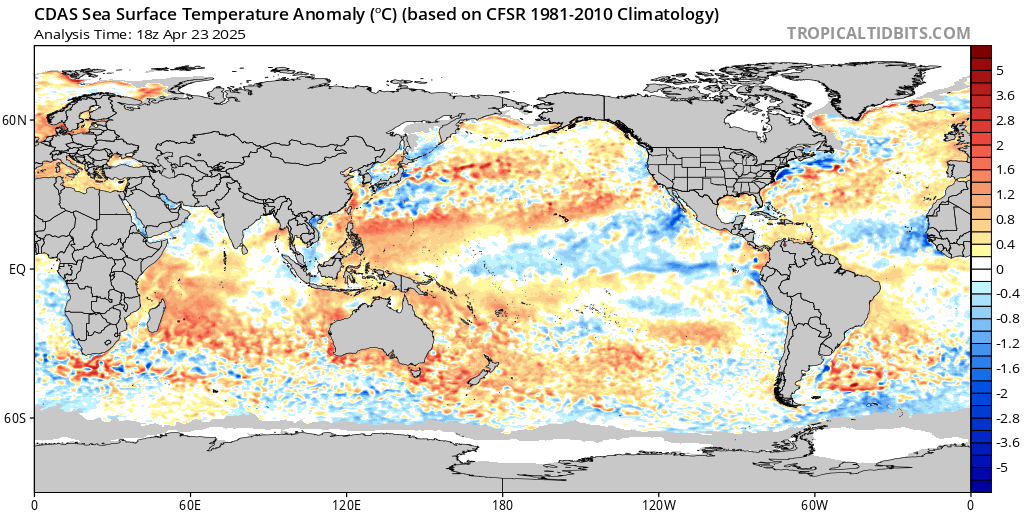 TEMPERATURES | 2021-22 WINTER
With all that being said, let's get into the 'nitty-gritty of the Winter Outlook!  La Niña will keep much of the south on the warmer and drier side of things.  That's NOT to say that it won't rain, but there will be few storms as most storm systems will move from out of the Pacific Northwest into the Rockies, then dive southward across the Central Mississippi Valley and into the Mid-Atlantic and Northeast.   Frequent cold shots are likely across the Plains and Midwest where it could range 2 to 4 degrees below average. 

REGIONAL TEMPERATURES | 2021-22 WINTER
Due to some ridging at times across the Eastern United States and a back-and-forth pattern of cool and wet vs. warm and dry at times, We think around average temperatures are more favored west of the Blue Ridge with around 2 degrees above average east of the Blue Ridge. 
REGIONAL PRECIPITATION | 2021-22 WINTER
With storm systems moving from the Plains and into The Mississippi and Tennessee River Valley Regions, this should give us many decent shots at precipitation, especially across inland locations.  Some ridging across the Eastern United States will likely keep the storm track further west, although, with the back-and-forth pattern, the coast can still expect storm systems, however, just not as many compared to places out west.
REGIONAL SNOWFALL | 2021-22 WINTER
Given some mixed signals for the upcoming winter, I've decided not to go extreme in either direction when it comes to snowfall.  There are a few reasons for this. Across Hampton Roads (Southeast Virginia,) It only takes 3 to 6 inches to achieve "normal snowfall."  We have seen this happen before, and that's what happened last winter.  Besides some inland storm tracks, there could be that one storm that moves up the coast with the cold air in place that could give these locations their annual snowfall average. 
The Interstate 95 and 85 Corridors are always questionable.  We have seen fewer "pure snowfall" events over the last several winters.  However, once again, snowfall averages here range anywhere from 7 to 14 inches, so it's possible to get that much snow in one or two events.   Across Washington, D.C. Metro area, less than 6 inches of snow was recorded last winter, however, portions of the Shenandoah Valley and locations just south of the District received enough snow to end up around average for the season. I do think we will struggle with the classic rain/snow line many times this winter, but we'll likely "luck out" with a few light to moderate snow events to reach *at least* 75 percent of normal snowfall.  Given the potential for some blocking across the Eastern United States, I DO *NOT* see this winter being "snowless," but I have less confidence that we will see "pure" snowstorms (meaning no mixing.)
REGIONAL ICE STORM RISK | 2021-22 WINTER
At times, we will see colder air across the Northeast and Mid-Atlantic Region.  However, some of these storms will likely take a western track, with low-pressure systems moving along the mountains.  This screams mixed precipitation or ice storms.  Back in the winter of 2019-2020, we saw a handful of ice events across the Piedmont and Valley.  Last winter, we had two significant ice storms back to back, locally more than one inch of freezing rain across South Central and Southern Virginia that knocked power out for days.  With similar storm tracks expected again this winter, there is medium to high confidence that we will see one or two significant ice storms for the 2021-22 winter season.
REGIONAL SNOWFALL FORECAST | 2021-22 WINTER
Due to the warmer waters along and off the Atlantic coast, even with shots of colder air, this could STILL keep storm tracks WEST, which would put locations along I-95 and east in mixed precipitation or plain rain events.
I still think we see A FEW coastal systems, later in December and into January, however, light to moderate events.  Remember, It ONLY takes one or two storms along and east of I-95 to reach "average snowfall." 
The best chance of seeing 100 to 125 percent of snowfall average will be across Far Southwest Virginia, West Virginia, Northwest Virginia (Winchester area), and Western Maryland.  This is where temperatures will be a bit colder to produce more snow and sleet, versus several mixed precipitation and ice events east of the Blue Ridge. 
Final Thoughts
Snow lovers, while I do NOT think this will be a snowless winter, we will still have obstacles from time to time that will likely keep us from seeing larger systems producing big snowfall totals. I see mainly mixed events that start or end as snow, with the threat for ice events.  However, if the storm tracks can push just smidge south and east, it only takes one snowstorm to bring most locations to near average.  This is a plausible scenario and something we'll have to watch, wait, and see what actually happens!