SNOW COVER ACROSS EURASIA & SEA ICE
ENSO & SEA SURFACE TEMPERATURES
This winter, we will have a "La Nada" or "Neutral" conditions. However, some models show a very weak El Nino developing. This is something that will need to be monitored, as this could open the door to a more active subtropical jet stream, with more storms across the Southern United States. With colder air in place, this could mean some big time winter storms.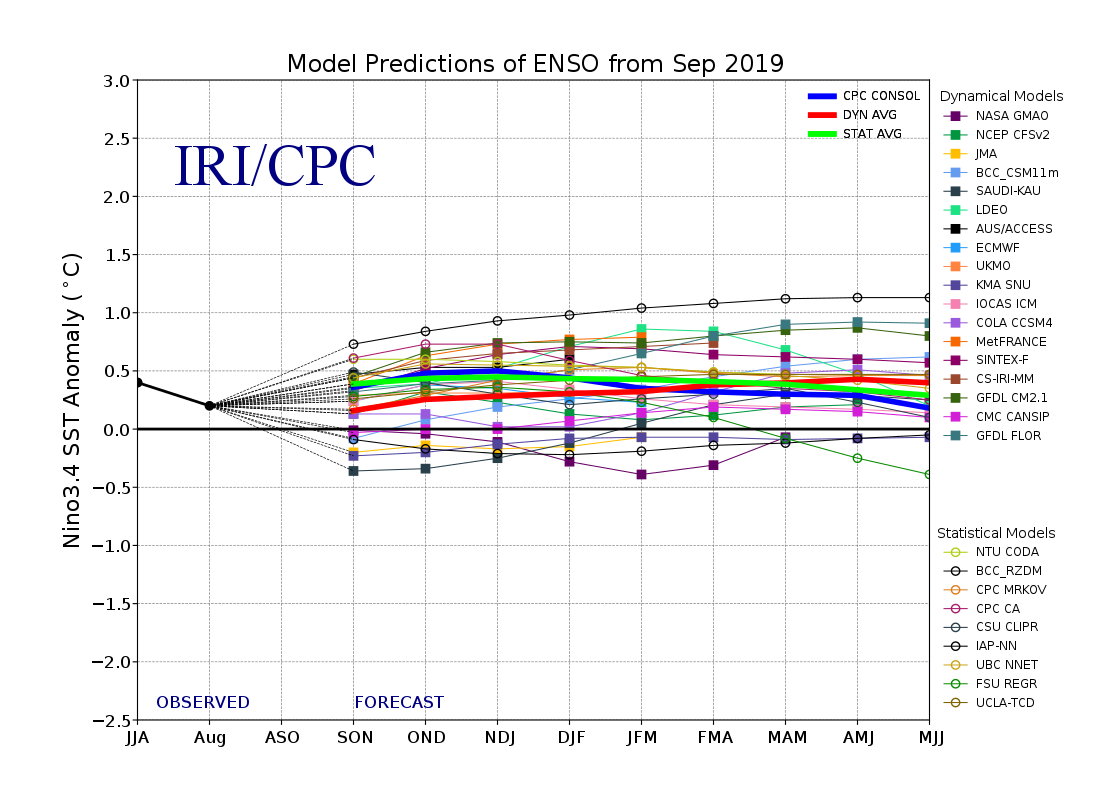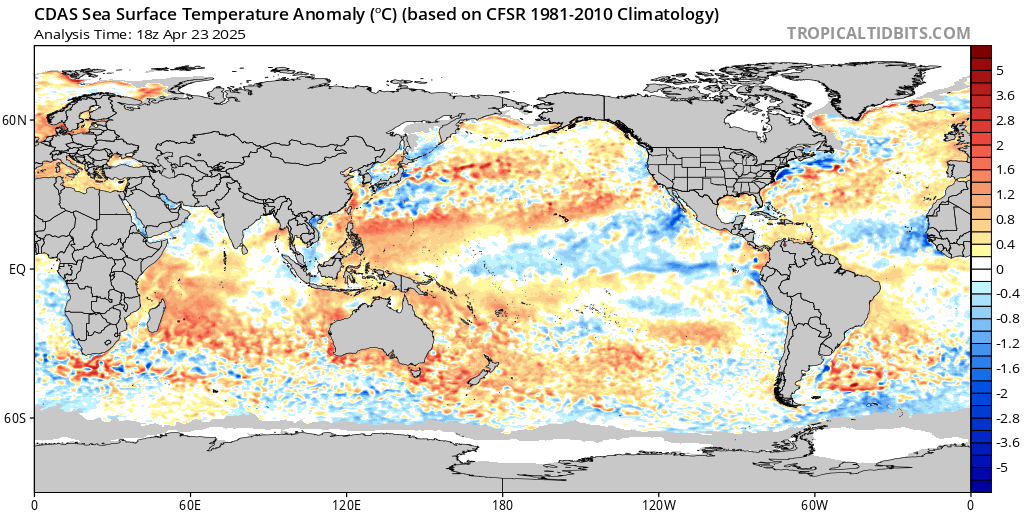 Current Sea Surface Temperatures show a large pool of warmer water across the Central and Eastern Pacific. There appears to be two areas of warmth, one "blob" focused off the Alaskan coast and another just east of Hawaii. If the warmer blob near Alaska were to take over, then we would have higher odds of seeing periodic shots of colder air across the Eastern U.S. Colder waters off the coast of Florida and in the Bahamas is likely from the impacts of Hurricane Dorian. We can also see a "mix" of cooler and warmer waters near the Equatorial Pacific, but are indeed WARMING. There will continue to be up and down spikes through the fall and winter.
Another thing to note are the warmer ocean temperatures along the East Coast. If this continues, any storm that develops off the coast will have more "fuel."
Colder waters further south could possibly be contributed by minimum solar sunspot activity.
SOLAR CYCLE SUNSPOT ACTIVITY
Our last "severe" winter was back in 2009-10. If you look at the graph below, you can see that 2009-10 reached the minimum solar cycle.
Solar sunspot activity plays a huge rule in patterns across the Northern Hemisphere. In fact, many severe winters occurred during minimum solar cycles and favors stormy and cold weather across the Eastern United States, due to ridging in Greenland.
Many severe winters during the mid 1960's, late 1970's, mid 1980's, mid 1990's, and 2009-10, all occurred when the solar cycle reached it's minimum.
As of September 9, we are expected to reach a minimum solar cycle during the upcoming 2019-20 winter season.
EPO (Eastern Pacific Ossification)
Not only is the NAO (North Atlantic Oscillation) and AO (Arctic Oscillation) important, The EPO plays a HUGE role in weather across the entire United States.
POSITIVE + EPO
When the EPO is POSITIVE, low pressure across is often found off the Alaska coast / Northeast Pacific. This often creates a "zonal flow" from west to east and can literally kill any hopes and dreams for snow lovers… It also forces the jet stream to go WAY NORTH into Canada, which means very warm conditions across the Eastern United States.
NEGATIVE -EPO
A NEGATIVE EPO is the exact opposite. You have high pressure across the Northeastern pacific, which brings much warmer conditions to Alaska, and helps to force colder air into the Central and Eastern United States. This opens the door to cross-polar flow or arctic intrusions of very cold air.
The EPO always changes, just like the NAO and AO — and will NOT remain in one phase all winter. However, analogs and current thinking supports more of a negative EPO this winter.
DROUGHT
One "fly in the ointment" is the drought. Right now, it's a short-term drought. While the pattern is changing and we will gradually see more rain over the weeks to come, this still needs to be monitored.
Droughts CAN play a huge impact in the long term and "help" Southeast ridging to develop across the area. If this occurs, then storm systems will move from the Rockies into the Ohio/Tennessee River Valley and Mid-Atlantic, meaning no coastal storms that develop in the Gulf and move up the coast. This would also change temperatures as well, even with blocking — it would be a battle with a strong Southeast Ridge and cold, arctic air to the north… We would be "sandwiched" right in the middle.
THANK YOU
THANK YOU for reading! Please consider donating to Virginia Weather Action to help keep us running through the winter! Your money helps us pay for radar and model subscriptions and enhancements to the website, plus adds new features either on the website or something entirely new altogether!